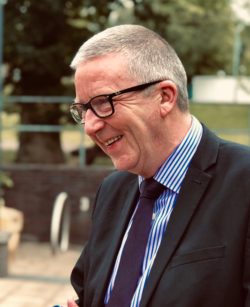 In 2020 Nigel M Taylor will mark 40 years of working in the music education sector. He is a proud member of the UK's Music Education Council, of the Incorporated Society of Musicians, and of Music Mark.
Nigel is an honours graduate of  Durham University and gained a Master's degree, with distinction, from the University of Manchester.  He began learning the piano at the age of 5, soon performing little concerts and accompanying hymns at his local church. He moved to Australia aged 11,  but barely touched a piano for the next two years.
Returning to Bolton, he was very fortunate to begin studies with Barbara Holt. He won a number of piano prizes and became a sought-after accompanist. He studied double bass, percussion and organ, joining Bolton Youth Orchestra in his early teens, and playing with other youth and amateur orchestras.
Nigel started his career as a classroom music teacher at the secondary school in Bolton where he had been a pupil. After two years, he was promoted to be head of music and drama at a large high school in Wigan.
Three years later, he was appointed as Head of Bolton Music Service where he led a significant expansion of instrumental and vocal teaching services to schools and pupils. He directed a newly-energised Bolton Music Centre and conducted its youth orchestra and youth concert band, both of which won "outstanding performance" awards at the National Festival of Music for Youth in London. Nigel led the youth concert band to further successes at the National Wind Band Festival, the Schools' Prom, the European Wind Band Festival and the World Music Contest, and he won the first ever Boosey & Hawkes "Outstanding Conductor" prize.
During his five year tenure at Bolton Music Service, he also co-founded the International Youth Philharmonic Orchestra (a partnership between Bolton and its two twin towns – Paderborn, Germany and Le Mans, France) and was founder-conductor of Bolton Symphony Orchestra, Harmonie '84 Wind Orchestra, and Corus Brass Ensemble.
Nigel became Shropshire's County Music Adviser aged 33; one of the youngest Local Education Authority advisers ever appointed in England. For seven years he led professional development programmes for teachers in the county's 300+ primary and secondary schools, and oversaw the growth of Shropshire Music Service, forging new partnerships with regional and national music organisations.
Nigel then joined Staffordshire County Council, as its Inspector for Music & Performing Arts and also became Head of Staffordshire Performing Arts (SPA), the county's music service, which went on to be judged as "Outstanding" twice in external reviews, and won the National Music Council's Diploma of Merit.
Continuing as head of SPA, he was promoted to hold concurrent roles: firstly as Deputy Head of Staffordshire's school improvement service, and then as Assistant Director of Education & Lifelong Learning, where he headed the County Council's cultural development division, leading on cultural education policy and overseeing the work of the Arts & Museums Services, the Archives Service, and SPA.
Whilst in Shropshire and Staffordshire Nigel worked as an Ofsted inspector. He served on more than 80 school inspections in England over a ten-year period, leading on music, Spiritual, Moral, Social and Cultural provision, and whole-school teaching and learning.
Nigel led a partnership between SPA, Stoke-on-Trent Music Service, the New Vic Theatre, Planet Sound and Beavers Arts to found "Make Some Noise" in 2001, as one of the first Youth Music Action Zones in England (in essence, an early "music education hub"). He chaired its management board for seven years and oversaw its development into an independent charity. He went on to lead the Staffordshire and Stoke-on-Trent Music Education Hub, as part of the first cohort of government-funded "hubs" in England.
Nigel led the planning with the CBSO and Manchester Camerata and two music education hubs to establish "In Harmony Telford & Stoke-on-Trent" where he chaired its management group. His wider work with senior colleagues in Staffordshire, Stoke-on-Trent, Shropshire and Telford laid the foundations for the subsequent development of the North West Midlands Music Education Hub – now The Music Partnership.
After serving as the West Midlands regional representative of the national Federation of Music Services (FMS), Nigel was elected as its Chair. He oversaw the merger between FMS and the National Association of Music Educators to form a new organisation – Music Mark.  Nigel was elected as Chair of its board and he simultaneously joined the national executive of the UK's Music Education Council. Nigel has advised government on music education matters, sitting on a number of Department for Education committees including those for the National Curriculum and for Music Education Hubs.
Nigel was an adviser to the Royal Northern College of Music for several years and was a board member of Keele University's postgraduate institute. He has been a director/trustee of Manchester Camerata, and of Birmingham's "Sound It Out" community music organisation.
"You can take the boy out of Bolton, but you can't take Bolton out of the boy."  Nigel recently returned to Bolton after over a quarter of century living, working and raising a family in the West Midlands. He is now Chair of the board of Trust Music, a Bolton-based music education charity and a trustee of the Bolton and Farnworth CofE MAT.
As well as his current work as a music education consultant to a number of national and regional organisations, Nigel continues to enjoy a reputation as an inspiring conductor here and abroad. He has commissioned and premiered a number of works by composers such as David Bedford, Edward Gregson, Joseph Horovitz, David Stanhope, Carl Vine, John Wood and Guy Woolfenden and is committed to programming new repertoire alongside the more familiar.
He was delighted to accept an invitation to return as guest music director to Corus Brass Ensemble, an ensemble he first formed in 1985, and which continues to thrill audiences today with its musicality and virtuosity.
Nigel has been a regular adjudicator at local and national music festivals including panels of the National Festival of Music for Youth and the National Wind Band Festival.
A proud father of two grown-up sons, Nigel is an avid cook, wine aficionado and traveller.
You can connect with him on LinkedIn and Twitter.